Napój alkoh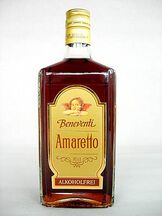 olowy wywodzący się z Włoch, o słodkim, lekko gorzkawym smaku. Jest to czerwonobursztynowy likier wytwarzany z użyciem migdałów lub czasem z pestek moreli, brzoskwiń, wiśni i innych. Czasami wykorzystuje się także różne zioła lub aromat waniliowy. Zawartość alkoholu wynosi zazwyczaj kilkanaście do trzydziestu procent objętościowych. Mimo że nazwa likieru wywodzi się z Włoch, to na świecie znane i popularne są likiery o tej nazwie produkowane we Francji, Holandii lub wNiemczech.
Amaretto jest głównym składnikiem wielu drinków. Jest także często wykorzystywane jako dodatek do kawy, czekolady, deserów i ciast, często w połączeniu z migdałami.
Przepis na domowe Amaretto:
Składniki likieru:
Edit
szklanka posiekanych migdałów
laska wanilii
2 szklanki białego cukru
szklanka brązowego cukru
2 szklanki spirytusu 95%
2 szklanki wody
Sposób przygotowania:
Edit
1. Migdały i przekrojoną laskę wanilii wrzucamy do słoja.
2. Z wody, cukru białego i brązowego gotujemy syrop, który następnie studzimy.
3. Syrop dodajemy do spirytusu i wszystko wlewamy do słoja.
4. Odstawiamy słój na miesiąc i co 2-3 dni nim potrząsamy.
5. Po miesiącu filtrujemy, rozlewamy do butelek i odstawiamy na pół roku.
Ad blocker interference detected!
Wikia is a free-to-use site that makes money from advertising. We have a modified experience for viewers using ad blockers

Wikia is not accessible if you've made further modifications. Remove the custom ad blocker rule(s) and the page will load as expected.