Składniki:
Rukola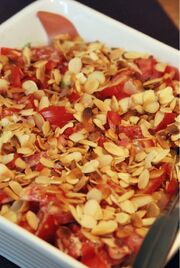 5 - 7 plastrów szynki łososiowej
4 plastry ananasów z puszki
1 pomidor (średniej wielkości)
Migdały w płatkach

Składniki sosu:
2 łyżki soku z ananasa
2 łyżki śmietany 12%
2 łyżki musztardy (np. sarepskiej)
Zioła prowansalskie
Sól, pieprz

Przygotowanie:
rukolę ułożyć w naczyniu, na to pokroić szynkę łososiową, ananasy i pomidory. Migdały sprażyć na patelni. Składniki sosu wymieszać, dodać soli i pieprzu do smaku. Polać sosem, a na wierzch posypać sprażonymi migdałami.
Ad blocker interference detected!
Wikia is a free-to-use site that makes money from advertising. We have a modified experience for viewers using ad blockers

Wikia is not accessible if you've made further modifications. Remove the custom ad blocker rule(s) and the page will load as expected.