Składniki:
*
2 szklanki kaszy manny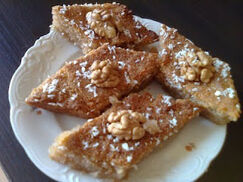 10 dkg wiórek kokosowych

1 cukier waniliowy

1 łyżeczka cynamonu

3 łyżeczki proszku do pieczenia

1 szklanka mleka

1 kostka masła (200g)
Syrop: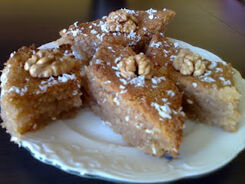 1 szklanka wody

1,5 szklanki cukru

1 łyżeczka soku z cytryny

Do dekoracji:
połówki orzechów włoskich

wiórki kokosowe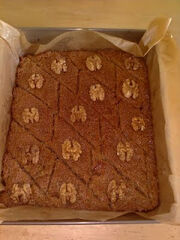 Kaszę mannę, cynamon, wiórki, cukier waniliowy oraz proszek do pieczenia wsypać do miski, zamieszać, dodać miękkie masło podzielone na kawałki i mleko Wyrobić ręką ciasto. Masa jest nieco lepka ale taka powinna być. Wyłożyć na niedużą blaszkę wyłożoną papierem do pieczenia, następnie wygładzić łyżką zamoczoną w wodzie (mniej będzie się lepić). Ciasto podzielić nożem również zwilżonym wodą na kwadraty lub trójkąty (nie będzie się potem kruszyć). Wstawić do nagrzanego piekarnika do temperatury 180 ˚C i piec 40 minut. Z podanych składników ugotować syrop. Ostudzonym syropem polać świeżo upieczone ciasto (powinno wchłonąć syrop). Na koniec posypać wiórkami kokosowymi. Udekorować orzechami. Dopiero ostudzone ciasto można wyjąć z blaszki.
Ad blocker interference detected!
Wikia is a free-to-use site that makes money from advertising. We have a modified experience for viewers using ad blockers

Wikia is not accessible if you've made further modifications. Remove the custom ad blocker rule(s) and the page will load as expected.