Bazylia pospolita (Ocimum basilicum L.), zwyczajowo zwana też bazylią wonną, bazylkiem ogrodowym, bazylijką zwyczajną, balsamem, bazyliszką polską - gatunek uprawnej rośliny jednorocznej z rodziny jasnotowatych. Pochodzi z tropikalnej strefy Azji, z terenów Iranu i Indii.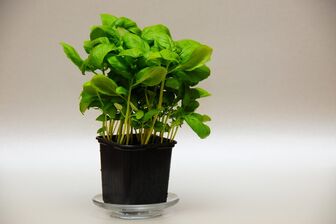 Bazylia ma miły, korzenny, słodkawy i pikantny smak i zapach. Jako przyprawy używa się świeżych lub suszonych liści lub całego ziela, które ścina się w czasie kwitnienia.
Wówczas roślina odrasta i powtórnie kwitnie. Najlepiej dodawać ją do sałatek i zup, duszonych warzyw oraz twarożku. Można również nacierać zielem mięsa przed dalszym przyrządzaniem. Niezastąpiony składnik prawie wszystkich włoskich dań, świetnie komponuje się z makaronem i pomidorami, główny składnik pesto.
Ad blocker interference detected!
Wikia is a free-to-use site that makes money from advertising. We have a modified experience for viewers using ad blockers

Wikia is not accessible if you've made further modifications. Remove the custom ad blocker rule(s) and the page will load as expected.