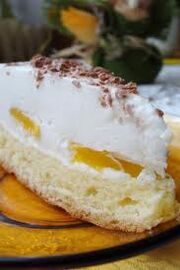 Składniki: • 4 jajka
• kostka masła
• 1 szkl. cukru pudru
• 2 szkl. mąki
• łyżeczka proszku do pieczenia
• sok z ½ cytryny
• kilka łyżek konfitur z moreli
• 0,5 l śmietanki kremówki
• op. cukru waniliowego
• morele
• tłuszcz do formy
• tarta bułka do formy
Sposób wykonania: Białka ubić na sztywną pianę z dodatkiem cukru po czym wylać na nią gorący roztopiony tłuszcz.
Poczekać chwile po czym delikatnie połączyć.
Gdy ostygnie delikatnie mieszając dodawać po jednym żółtku, sok z cytryny oraz mąkę wymieszaną z proszkiem do pieczenia.
Ciasto przelać do formy wysmarowanej tłuszczem i posypanej bułką tartą.
Wstawić do piekarnika rozgrzanego do 160 stopni i piec około 50 minut.
Po upieczeniu wierzch ciasta posmarować konfiturą i ułożyć kawałki moreli.
Przed podaniem udekorować śmietaną ubitą na sztywną z cukrem waniliowym.
Ad blocker interference detected!
Wikia is a free-to-use site that makes money from advertising. We have a modified experience for viewers using ad blockers

Wikia is not accessible if you've made further modifications. Remove the custom ad blocker rule(s) and the page will load as expected.