Składniki: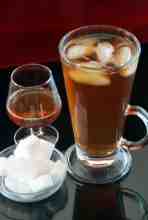 4 szklanki mocnej, świeżo zaparzonej czarnej herbaty
1 duża pomarańcza
1 szklanka koniaku
Cukier
Herbatę osłodzić do smaku i przelać do dzbanka. Pomarańczę umyć i pokroić razem ze skórką w cienkie plasterki, które przekroić na połówki lub ćwiartki, usunąć pestki. Włożyć do dzbanka z herbatą, a następnie wlać koniak. Ostudzić i schłodzić. Podawać w wysokich szklankach.
Ad blocker interference detected!
Wikia is a free-to-use site that makes money from advertising. We have a modified experience for viewers using ad blockers

Wikia is not accessible if you've made further modifications. Remove the custom ad blocker rule(s) and the page will load as expected.