Składniki na 10 porcji: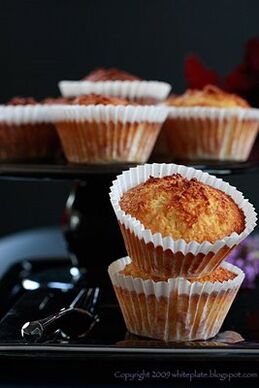 1 i 1/4 szklanki (310 ml) mleka
1 i 1/4 łyżeczki miodu
3 szklanki (230 g) wiórków kokosowych
1/2 szklanki (125 g) cukru
1/2 szklanki (70 g) mąki
2 łyżeczki proszku do pieczenia
2 duże jajka, dobrze roztrzepane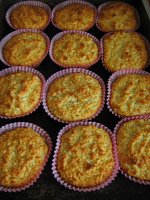 Przygotowanie:
Piekarnik nagrzać do 200 stopni. Wgłębienia w formie do muffinów wyłożyć papierowymi papilotkami. Zagotować mleko z miodem, odstawić z ognia.
Wymieszać wiórki kokosowe, cukier, mąkę i proszek do pieczenia. Powoli wlać mleko i wymieszać. Dodać roztrzepane jajka i mieszać aż składniki dobrze się połączą.
Masą napełnić papilotki, dbając aby masa za każdym razem była dokładnie wymieszana. Piec na złoty kolor, przez około 25 - 30 minut.
Ad blocker interference detected!
Wikia is a free-to-use site that makes money from advertising. We have a modified experience for viewers using ad blockers

Wikia is not accessible if you've made further modifications. Remove the custom ad blocker rule(s) and the page will load as expected.