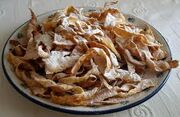 Składniki:

25 dag mąki pszennej
4 dag cukru pudru
1 łyżka masła
3 żółtka
5 - 10 dag śmietany
1 kieliszek spirytusu
szczypta soli

50 dag smalcu do smażenia
cukier puder z cukrem waniliowym do posypania

Przepis na faworki:
Mąkę posiekać z masłem, dodać żółtka, cukier, szczyptę soli, spirytus i tyle śmietany, aby ciasto było twarde jak na makaron. Dobrze wyrobić i wybijać wałkiem tak długo, aż będą tworzyły się pęrzerze. Następnie ciasto przykryć ściereczką i zostawić w chłodnym miejscu na 1 godzinę, po czym rozwałkować cienko bez posypywania mąką i uformować faworki.

Jak formować faworki: ciasto pokroić na paski o długości 10 cm i o szerokości 3 cm, każdy pasek przeciąć pośrodku i przełożyć jeden koniec paska przez przecięcie i przeciągnąć.

Faworki smażyć na rozgrzanym tłuszczu po obu stronach na złoty kolor. Po usmażeniu faworki ułożyć dla osączenia na bibule, następnie przełożyć na półmisek i posypać cukrem pudrem z dodatkiem cukru waniliowego.
Ad blocker interference detected!
Wikia is a free-to-use site that makes money from advertising. We have a modified experience for viewers using ad blockers

Wikia is not accessible if you've made further modifications. Remove the custom ad blocker rule(s) and the page will load as expected.