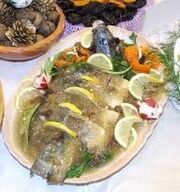 Składniki:
1 kg karpia (oczyszczonego i bez łba)
pęczek włoszczyzny (25 dag)
2 cebule
kilka ziaren ziela angielskiego i pieprzu
liść laurowy
sól
szczypta cukru
2 białka
2 łyżki octu
2 łyżeczki żelatyny
PRZYGOTOWANIE:
Warzywa umyć, obrać, opłukać, zalać wrzącą wodą, osolić, dodać odrobinę cukru i gotować. Oczyszczoną, umytą i pokrajaną w dzwonka rybę włożyć do wrzącego wywaru, dodać przyprawy i gotować na wolnym ogniu ok. 30 min. Ugotowaną rybę ostrożnie wyjąć łyżką cedzakową. Żelatynę namoczyć, zalewając kilkoma łyżkami zimnej wody. Wywar przecedzić, dodać lekko roztrzepane białka oraz ocet i namoczoną żelatynę. Podgrzewać na wolnym ogniu, a gdy wywar się sklaruje, przecedzić przez rzadkie płótno lub gazę. Na dno formy wlać połowę wywaru, wstawić do lodówki, a gdy się zestali, na zastygniętej galarecie ułożyć porcje ryby i zalać pozostałym wywarem. Ponownie wstawić do zestygnięcia. Przed podaniem okrajać nożem boki galarety, spód formy zanurzyć na moment w gorącej wodzie i przechylając ją, wyłożyć zawartość na półmisek. Udekorować grzybkami z octu, zielonym groszkiem, listkami sałaty lub jarmużu, papryką lub pomidorami i cząstkami cytryny. Podawać z dodatkiem sosów i pieczywa.
Ad blocker interference detected!
Wikia is a free-to-use site that makes money from advertising. We have a modified experience for viewers using ad blockers

Wikia is not accessible if you've made further modifications. Remove the custom ad blocker rule(s) and the page will load as expected.