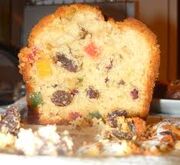 Składniki:

1 szklanka z "czubkiem" mąki
1/2 szklanki cukru
1 cukier waniliowy
4 jajka
2 łyżki maku
1 łyżeczka proszku do pieczenia

1 szklanka bakali (mogą być: rodzynki, orzechy włoskie, śliwki suszone, pestki słonecznika, pestki dyni, płatki migdałowe, skórka z pomarańczy lub według własnego smaku)

Przepis:





Żółtka utrzeć z cukrem i cukrem waniliowym. Dodać ubitą pianę z białek, mąkę wymieszaną z proszkiem do pieczenia i makiem. Na koniec opruszone mąką bakalie.

Ciasto wykładamy na wyłożoną papierem do pieczenia blaszkę. Piec 1 godzinę w temperaturze 180 stopni C.
Ad blocker interference detected!
Wikia is a free-to-use site that makes money from advertising. We have a modified experience for viewers using ad blockers

Wikia is not accessible if you've made further modifications. Remove the custom ad blocker rule(s) and the page will load as expected.