Składniki: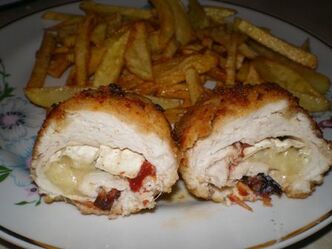 - 2 filety z kurczaka
- krążek sera Camembert np. chilli lub czarny pieprz
- 1/2 słoiczka suszonych pomidorów
- 2-3 ząbki czosnku
- pieprz
- sól
- masło
- 2 jajka
- bułka tarta
- olej do smażenia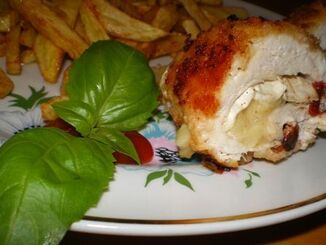 Przepis:
Filety pokroić na cienkie plastry, przełożyć je do miski, dodać zmiażdżony czosnek, oraz pieprz, wymieszać, przykryć folią i odstawić na godzinkę do lodówki. Jajka roztrzepać ze szczyptą soli i pieprzu. Ser pokroić w słupki. Na każdy plaster mięsa położyć płaską łyżeczkę masła, a na to ser oraz suszone pomidory. Zwinąć w roladkę, spiąć wykałaczkami lub związać nitką tak, aby ser nie wypłynął w czasie smażenia. Następnie obtoczy najpierw w jajku, a potem w bułce tartej. Można powtórzyć tę czynność. Smażyć na głębszym rozgrzanym oleju na niewielkim ogniu.
Ad blocker interference detected!
Wikia is a free-to-use site that makes money from advertising. We have a modified experience for viewers using ad blockers

Wikia is not accessible if you've made further modifications. Remove the custom ad blocker rule(s) and the page will load as expected.