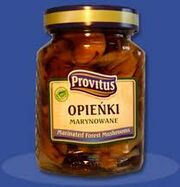 SKŁADNIKI:
1 szklanka octu 10%
4 szklanki wody
1 łyżka gorczycy
1 łyżka soli
4 łyżki cukru
pieprz
ziele angielskie
liście laurowe
2 kg opieńki
PRZYGOTOWANIE:
Opieńki obieramy i dokładnie myjemy pod zimną wodą.Odcinamy ogonki, marynuje się tylko kapelusze. Następnie gotujemy w osolonej wodzie kapelusze opieńków około 5- 7 minut od momentu zagotowania wody. Następnie w drugim garnku przygotowujemy zalewę z wody i przypraw- gotujemy około 5 minut, kolejno dolewamy ocet i słodzimy. Kapelusze układamy w słoikach do 3/4 objętości. Zalewamy gorącą zalewą, zakręcamy słoiki. Następnie pasteryzujemy około 10 minut.
Ad blocker interference detected!
Wikia is a free-to-use site that makes money from advertising. We have a modified experience for viewers using ad blockers

Wikia is not accessible if you've made further modifications. Remove the custom ad blocker rule(s) and the page will load as expected.