Składniki nalewki:
Edit
1,5 kilograma dojrzałych brzoskwiń
2 szklanki cukru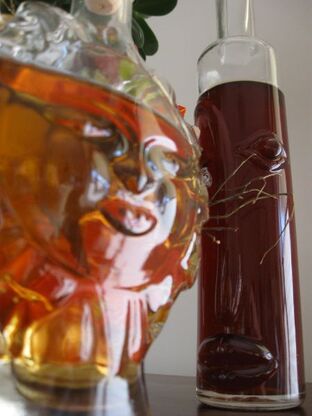 0,5 litra wody
łyżka soku z cytryny
2 litry alkoholu 70%
Sposób przygotowania:
Edit
1. Brzoskwinie pestkujemy, dzielimy na ósemki, wkładamy do słoja i zalewamy alkoholem.
2. Słój odstawiamy na 2 miesiące i co kilka dni nim potrząsamy.
3. Po 2 miesiącach rozpuszczamy w wodzie cukier i dodajemy sok z cytryny.
4. Do jeszcze ciepłego syropu cukrowego wlewamy nalew z brzoskwiń i całość odstawiamy na 3 miesiące.
5. Po tym czasie nalewkę filtrujemy i rozlewamy w butelki.
Ad blocker interference detected!
Wikia is a free-to-use site that makes money from advertising. We have a modified experience for viewers using ad blockers

Wikia is not accessible if you've made further modifications. Remove the custom ad blocker rule(s) and the page will load as expected.