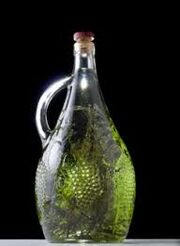 Składniki:
• 40 liście świeżej mięty
• ½ kg cukru
• sok z ½ cytryny
• szklanka wody
• 3/4 litra wódki

Sposób przyrządzenia:
Zagotować wodę z cukrem i sokiem z cytryny, do gorącego syropu wrzucić gałązki mięty i odstawić na 24 godziny. Po tym czasie przecedzić i dodać wódkę. Rozlać do butelek i odstawić w suche i chłodne miejsce na 2-4 tygodnie.
Ad blocker interference detected!
Wikia is a free-to-use site that makes money from advertising. We have a modified experience for viewers using ad blockers

Wikia is not accessible if you've made further modifications. Remove the custom ad blocker rule(s) and the page will load as expected.