kładniki nalewki:
Edit
1 kilogram owoców derenia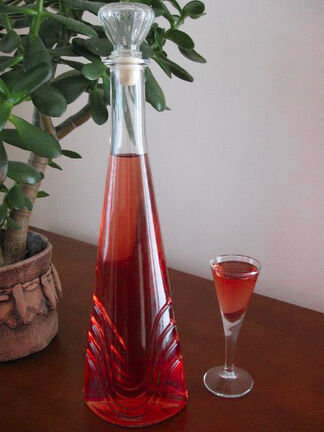 1 kilogram cukru
0,5 litra wody
1 litr spirytusu 70%
Sposób przygotowania:
Edit
1. Owoce wrzucamy do słoja, zalewamy spirytusem i odstawiamy na miesiąc.
2. Po miesiącu nalew zlewamy.
3. Przygotowujemy syrop z pół litra wody i kilograma cukru.
4. Ciepłym syropem zalewamy owoce i sodstawiamy słój na dwa tygodnie, co 2-3 dni nim potrząsając.
5. Po dwóch tygodniach zlewamy syrop i wyciskamy owoce.
6. Syrop łączymy z nalewem i odstawiamy na miesiąc do sklarowania.
7. Po miesiącu filtrujemy i odstawiamy nalewkę na pół roku, aby leżakowała.
Ad blocker interference detected!
Wikia is a free-to-use site that makes money from advertising. We have a modified experience for viewers using ad blockers

Wikia is not accessible if you've made further modifications. Remove the custom ad blocker rule(s) and the page will load as expected.