Składniki:
60 ml whiskey lub bourbonu,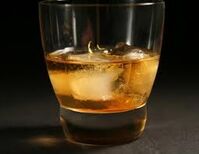 12 kropel Angostury,
1 kostka cukru,
woda gotowana,
1 plasterek cytryny,
wisienka koktajlowa,
lód
Przygotowanie: Wrzucamy do szklanki typu old fashioned kostkę cukru, wlewamy troszkę wody i Agnosturę. Zgniatamy cukier i mieszamy aż się rozpuści. Wrzucamy 2-3 kostki lodu i wlewamy whiskey. Dekorujemy wisienką koktajlową i plasterkiem cytryny.
Ad blocker interference detected!
Wikia is a free-to-use site that makes money from advertising. We have a modified experience for viewers using ad blockers

Wikia is not accessible if you've made further modifications. Remove the custom ad blocker rule(s) and the page will load as expected.