Składniki: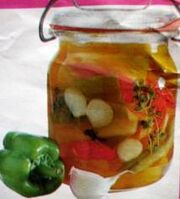 • 4 kg papryki
• 1 kg cebuli
Zalewa: • 2 szklanki octu 10%
• 2 opakowania gorczycy
• 14 szklanek wody
• 40 ziarenek ziela angielskiego
• 2 szklanki cukru
• 40 goździków
• 20 liści laurowych
• 4 czubate łyżki soli
Sposób przyrządzenia: Paprykę umyć, usunąć gniazda nasienne, pokroić w pasy. Cebulę obrać i pokroić w plastry. Paprykę i cebulę ciasno ułożyć w umytych i wyparzonych słoikach. Składniki zalewy ugotować, po 5 minutach wyjąć goździki, zalać paprykę, pasteryzować około 15 minut.

Ad blocker interference detected!
Wikia is a free-to-use site that makes money from advertising. We have a modified experience for viewers using ad blockers

Wikia is not accessible if you've made further modifications. Remove the custom ad blocker rule(s) and the page will load as expected.