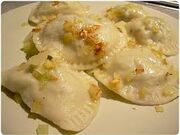 Ciasto: Składniki:
• 3 szklanki mąki pszennej
• 1 szklanka wody o temperaturze około 75 st. C
• sól do smaku

Farsz: Składniki:
• 15 dkg wołowiny
• 15 dkg wieprzowiny
• 10 dkg mięsa drobiowego
• 1 łyżeczka masła
• 2 łyżki gęstej śmietany
• 2 bardzo drobno pokrojone cebule
• 1 łyżka posiekanej natki pietruszki
• sól, pieprz, gałka muszkatołowa do smaku
Sposób przyrządzania: Mięso dwukrotnie zmielić w maszynce do mięsa. Dodać pozostałe składniki, dokładnie wymieszać.
Mąkę przesiać przez sito. Na stolnicy uformować z niej kopczyk robiąc w nim wgłębienie. Do mąki dodajemy wrzątek i natychmiast dodajemy zimną wodę, sól. Początkowo mieszamy za pomocą łyżki, a potem, gdy nie jest już tak gorące dłońmi. Wstępnie wymieszane ciasto odstawiamy przykryte lnianą ściereczką na 20 minut, aby "odpoczęło". Po tym czasie ponownie wyrabiamy ciasto tym razem do momentu aż przestanie się kleić do dłoni i będzie jedwabiście "gładkie" Z tak przygotowanego i rozwałkowanego na pożądaną grubość ciasta wycinamy używając szklanki koła, nakładamy farsz i starannie sklejamy brzegi. Gotujemy do momentu aż pierogi wypłyną.
Ad blocker interference detected!
Wikia is a free-to-use site that makes money from advertising. We have a modified experience for viewers using ad blockers

Wikia is not accessible if you've made further modifications. Remove the custom ad blocker rule(s) and the page will load as expected.