Składniki: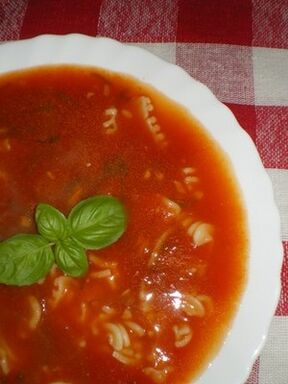 - pierś z kurczaka
- 2 puszki pomidorów
- 2 ząbki czosnku
- 10 listków bazylii
- 1 łyżeczka oregano
- liść laurowy
- 2 ziarenka ziela angielskiego
- 1/2 kostki rosołowej
- sól
- pieprz
- olej
Przepis:
Czosnek drobno posiekać i podsmażyć na posmarowanej olejem patelni. Mięso pokroić na kawałki. Do garnka przełożyć pomidory z puszki, dodać czosnek, mięso, listek laurowy, ziele angielskie, trochę posiekanej bazylii, oregano, doprawić pieprzem i solą. Gotować na małym ogniu, aż mięso będzie miękkie, można doprawić ewentualnie kostką rosołową.
Zupę podawać posypaną świeżą bazylią, z ugotowanym makaronem lub ryżem.
Ad blocker interference detected!
Wikia is a free-to-use site that makes money from advertising. We have a modified experience for viewers using ad blockers

Wikia is not accessible if you've made further modifications. Remove the custom ad blocker rule(s) and the page will load as expected.