Składniki:
herbata czarna Irving Owoce Leśne - 3 saszetki
konfitura z borówek 2-3 łyżki

Przygotowanie:
1. Piersi z kaczki oprószyć solą pieprzem, tłuczonymi owocami jałowca, posiekanym rozmarynem, skropić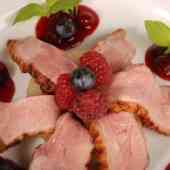 octem, oliwą dokładnie wymieszać odstawić w chłodne miejsce na 12 godz.
2. Zamarynowaną kaczkę obsmażyć na mocno rozgrzanej patelni, następnie wstawić do piekarnika rozgrzanego do 160 st na 15 min.
3. Na patelnię wlać 300 ml mocnego naparu z herbaty, zredukować do 1/3 objętości, gotując kilkanaście minut. Pod koniec dodać konfiturę, maliny, masło, doprawić do smaku.
4. Piersi z kaczki kroić na cienkie plastry, podawać z sosem.
Ad blocker interference detected!
Wikia is a free-to-use site that makes money from advertising. We have a modified experience for viewers using ad blockers

Wikia is not accessible if you've made further modifications. Remove the custom ad blocker rule(s) and the page will load as expected.