4 - 5 paczek herbatników (40 - 50 dag) np. Petit Beurre lub 2 paczki krakersów

Masa:
3 żółtka
2 łyżki mąki pszennej
3 łyżki mąki ziemniaczanej
1 paczka cukru waniliowego
1 szklanka cukru
30 dag masła roślinnego (w kubeczku)
około 20 dag wiórków kokosowych
można dodać spirytys do smaku

wiórki kokosowe do posypania

Przygotowanie:
W 1/2 szklanki mleka w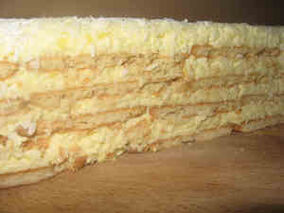 ymieszać żółtka oraz obie mąki i zmiksować. Pozostałe 2 szklanki mleka zagotować z cukrem i cukrem waniliowym. Dodać zmiksowane żółtka z mąką i ugotować z tego budyń.
Masło utrzeć i dodać przestudzony budyń. Na koniec dodać wiórki kokosowe i spirytus. Wymieszać.
Formę lub deseczkę wyłożyć papierem do pieczenia i układać ciastka herbatniki. Następnie nałożyć masę i znów herbatniki - tak, aby powstały 4 warstwy. Na wierzch wyłożyć masę i posypać wiórkami kokosowymi. Ciasto lekko przykryć folią aluminiową i włożyć do lodówki.
Ad blocker interference detected!
Wikia is a free-to-use site that makes money from advertising. We have a modified experience for viewers using ad blockers

Wikia is not accessible if you've made further modifications. Remove the custom ad blocker rule(s) and the page will load as expected.