Składniki: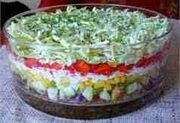 40-50 dkg filetów z piersi kurczaka
1 opakowanie przyprawy do gyrosa
pół litrowego słoika kiszonych ogórków
puszka kukurydzy konserwowej
kapusta pekińska
ketchup
majonez

Przygotowanie: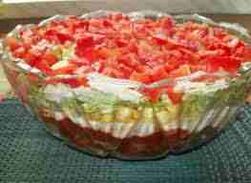 Pierś z kurczaka umyć i pokroić w kostkę o średnicy 1.5 - 2 cm, następnie w misce wymieszać surowe mięso z przyprawą do gyrosa (przyprawy dosypujemy dość obficie). Przyprawione mięso wrzucamy na patelnię i smażymy do momentu uzyskania złotego koloru, po czym je studzimy. Zanim mięso wystygnie możemy w między czasie pokroić w drobną kostkę kiszone ogórki i poszatkować kapustę pekińską. Gdy mięso już wystygnie, wykładamy je do szklanej miski o średnicy około 25 - 30 cm, polewamy ketchup'em (w kratkę) i dodajemy parę kleksów z majonezu. W kolejnej warstwie wykładamy pokrojone w kostkę ogórki kiszone, na które ponownie kładziemy ketchup i majonez. Na ogórki kładziemy warstwę kukurydzy, plus znowu ketchup i majonez. Na wierzchnią warstwę wykładamy poszatkowaną kapustę. Całość ułożoną warstwami wkładamy w misce do lodówki na około 2 godziny, żeby sałatka się "przegryzła".
Ad blocker interference detected!
Wikia is a free-to-use site that makes money from advertising. We have a modified experience for viewers using ad blockers

Wikia is not accessible if you've made further modifications. Remove the custom ad blocker rule(s) and the page will load as expected.