Składniki:
Ciasto:
- 1 szklanka mąki
- 10 dag masła
- 2 łyżki cukru
- 1 jajko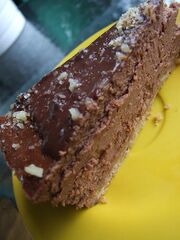 - 1 łyżka cukru waniliowego
- 1 łyżeczka proszku do pieczenia
- 1 łyżka kakao
- 1 łyżka kwaśnej śmietany 18%
Masa:
- 1 kg twarogu półtłustego
- 1/2 szklanki cukru
- 4 łyżki stopionego masła
- 2 łyżeczki cukru waniliowego
- 8 jajek
- 2 łyżki budyniu śmietankowego lub waniliowego
- szczypta soli
- 200 g gorzkiej czekolady
- 50 g mlecznej czekolady
Przepis:
Ciasto: Z podanych składników zagnieść kruche ciasto. Włożyć na pół godziny do lodówki. Następnie rozwałkować je.
Masa: Żółtka utrzeć z cukrami, dodać masło, utrzeć, dodać proszek budyniowy oraz twaróg, utrzeć. Czekoladę roztopić w kąpieli wodnej. Do masy dodać roztopioną, lekko ostudzoną czekoladę. Białka ubić ze szczyptą soli. Delikatnie wymieszać z ciemną masą serową.
Blaszkę wyłożyć pergaminem, położyć rozwałkowane ciasto. Następnie wyłożyć ciemną masę. Piec w 170*C ok. 1 godziny. Gotowy sernik można polukrować.
Ad blocker interference detected!
Wikia is a free-to-use site that makes money from advertising. We have a modified experience for viewers using ad blockers

Wikia is not accessible if you've made further modifications. Remove the custom ad blocker rule(s) and the page will load as expected.