Składniki: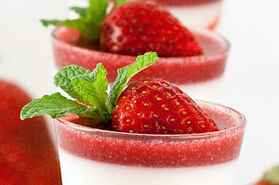 250 ml jogurtu naturalnego,
Przygotowanie:
Owoce wrzucić do blendera lub rozdrobnić mikserem. Dodać skruszony lód. Ponownie zmiksować. Jogurt zmiksować z lodem i miodem. Wlać jogurt, a na wierzch koktajl z truskawek, tworząc warstwę, można delikatnie zamieszać. Kubek z koktajlem udekorować przekrojonym kawałkiem truskawki.
Ad blocker interference detected!
Wikia is a free-to-use site that makes money from advertising. We have a modified experience for viewers using ad blockers

Wikia is not accessible if you've made further modifications. Remove the custom ad blocker rule(s) and the page will load as expected.